Data Science Plus Oil & Gas Knowledge Equals Successful Decommissioning
by Barry Liu
Oil and gas projects are normally decommissioned many years, sometimes decades after starting operations. Data science helps operators to quickly and easily make informed decommissioning decisions by structuring decades of big data. Waterford Energy Services' data science team working with our oil and gas engineers and operations personnel helps our clients to see key information critical to decommissioning success.
It is incredibly complex to decommission aged and remote offshore oil fields that have been operating for many years. Maintaining environmental, safety, cost and reputational standards is not easy. At the time facilities and wells were built, little thought was given to how they might eventually be decommissioned. Once oil depletes, operators struggle to seal long-existing wells, remove seabed pipelines and ensure fields are left in a condition that complies with strict regulations.
Apart from technical feasibility and environmental impact, oil and gas companies also must prioritize safety and balance economic returns. As such, the process of designing, assessing and selecting the best decommission option during planning is an important undertaking.
In order to ensure the best decommissioning plan, oil and gas companies must undergo a lengthy and potentially error-prone exercise of historical data review. Massive and diverse sets of information grow at ever-increasing rates over decades. Besides, not all knowledge is recorded in a structured form. These unstructured data range from spreadsheets to scanned documents. Decommissioning teams may struggle to review massive amounts of unstructured, yet valuable, data. Consequently, decommissioning activities are subject to substantial risk if all key data is not accessible for consideration.
Decommissioning Data Pipeline (DDP)
In order to make informed decisions and recommendations while minimizing the workload, Waterford's Decommissioning Data Pipeline (DDP) is required. The DDP streamlines big data ingestion, data storage, analytics warehouse, dashboard reporting and scrutinization. With artificial intelligence and machine learning techniques, the vital processes of data extraction and reviewing become efficient and accurate. Operators can unlock field information (wells, production, operations, logistics, HSE, etc.), which helps to make informed recommendations and facilitate evaluations of different options by comprehensive criteria including safety, environmental and society impact, financial and technical feasibility.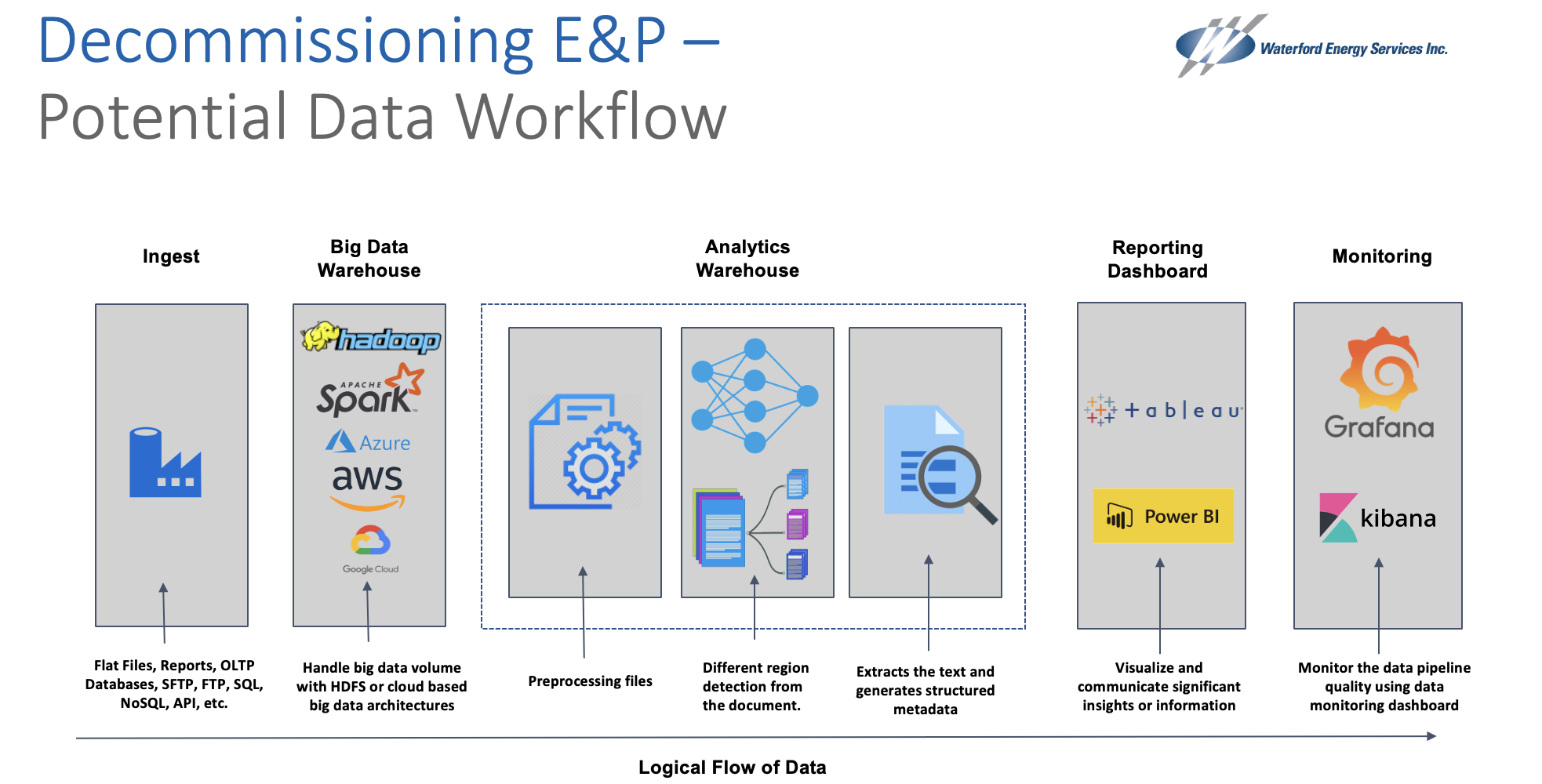 Waterford is an industry leader in Energy Consulting and Innovative Solutions.  With decades of oil and gas experience in nearly 200 projects in over 16 countries, our data science team helps to craft advanced AI solutions. For more efficiency-boosting solutions, feel free to contact us or visit our website at https://wesi.ca/our-services/software-data-science/w-ingest/.